About Us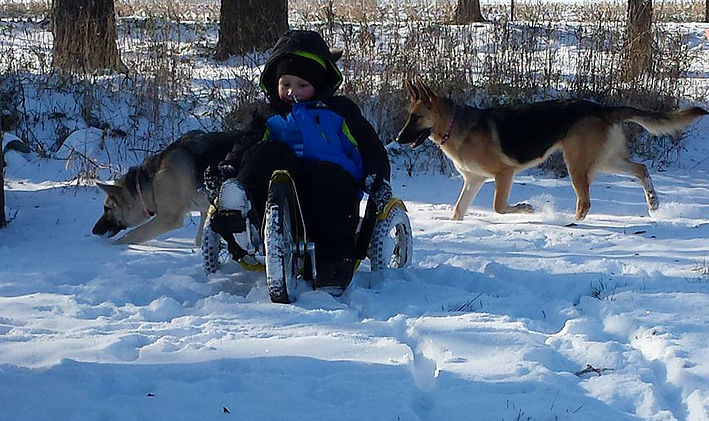 The name Krieghund translates to "War Dog" in the German language. We chose this name to honor the many brave German Shepherds who have served their countries in generations past and present. The pronunciation is "Kreeg - hoond".
We decided years ago that Krieghund Farm was going to be different. We weren't going to operate like everyone else did, because we were not happy with what we were seeing from other breeders. Every time we looked for a reputable, quality breeder we were met with challenges we didn't appreciate. Poor customer service, poor breeding quality dogs, poor breeding facility, poor nutrition, poor cleanliness, and high prices. The saddest thing we witnessed were puppy mill type operations, and our hearts went out to the dogs and their puppies. Or when breeders retired a dog, it was given away to make room for a dog who could breed. Each time we had one of these experiences, we learned exactly what we didn't want to be here at Krieghund Farm.
First and foremost, we wanted our dogs to be pets, not slaves in a cage. We chose to let our dogs be part of the family like dogs are intended to do. It can be a bit chaotic at times, but we wouldn't have it any other way. We decided to treat these gorgeous animals exactly like what they are: family members. They eat as well as we do, they take high quality supplements, have comfy dog beds, they have their babies right where they are most comfy: in our main living areas. They have multiple acres of fenced area outside our home to run and play freely with one another. They are all well socialized to us and our children, as well as to each other and a house cat. We are able to see each one's true temperament in a family environment. How can a breeder truly know a dog if they spent their lives in a kennel?
Second, we wanted to breed high quality bloodlines without gouging people with pricing. We wanted to see families like ours be able to afford a fantastic German Shepherd with excellent family temperament. We also wanted to breed German Shepherds with a solid training background, so those needing a therapy dog didn't have to go without due to excessive pricing. We carefully selected each of our breeding pets for their ability to train quickly and easily, along with a family attitude. That's exactly what our puppies have shown themselves to be. They are built to belong to a human!
And lastly, we wanted to create an experience for our buyers they will always look back on fondly. After seeing how ugly the breeding world can be, we wanted to create positive interactions beyond just bringing home a new puppy. From your first contact through the rest of your puppy's life, we want our buyers to see the love we have for our puppies and pour that same zest into their own puppies life.
We begin with a warm bath and nail grooming right before you pick up your puppy. Most new owners want to bath the puppy when they first come home and its extra stressful for them if done right after leaving their siblings and the only home they have ever known. This also has the added benefit of giving you a fresh clean puppy ready for cuddles and kisses the moment you arrive. We send each of our buyers' home with a bag of the puppy food we use, so if you decide to change it you can gradually switch them over to reduce stomach upset. We include a puppy blanket that's been rubbed all over their Mommy to help the puppy adjust to their new environment a little easier the first few days. We also include an AKC folder and paperwork, along with an AKC New Puppy Handbook. We have included our FAQ on the website to help with frequently asked questions in the early days of bringing a new German Shepherd puppy home. We want each of our puppies to have the best life possible and we do everything in our power to ensure a great start!
At Krieghund Farm, we pledge to NEVER breed a dog who is a carrier for DM, or Degenerative Myelopathy. That's means all of our breeding dogs will test as N/N, meaning your puppy will have zero chance of ever developing this devastating, painful disease.
We also pledge to avoid breeding a female on back to back cycles. This practice is commonly referred to as a puppy mill, though we have seen other breeders who portray their business as high quality but still breed back to back cycles. We see a lot of breeders doing this to maximize profits. We have heard a lot of "excuses" as to why this is allowable. We only breed our females once every year, period. They work hard for these puppies, and pregnancy and nursing take its toll on the dog. They need proper time to rest, recover, and refuel their bodies. Breeding back to back cycles is not only irresponsible, it's also dangerous for the mother and puppies. It increases the odds of complications during pregnancy, whelping, postpartum, and also increases the chance of issues with the puppy's health. We won't take that chance willingly! We only plan one litter per year for our girls.
Another pledge is that we will never have a dog that just lives in a cage. Not going to happen. All of our dogs run, play, and socialize. We spend a LOT of our time outside here, so our dogs are always congregating on top of whatever we are working on. Try walking when you have a pile of GS swarming around your ankles, no easy feat!
Lastly, one of the most heartbreaking things we see other breeders do is "get rid" of their dogs once they retire from breeding. Our dogs are pets, and they are part of our family. Our breeding dogs retire and spend their golden years getting belly rubs, bones, and lounging in the sunshine during that bi-hourly nap. We don't dump our dogs off on other people just because they can't make money anymore. We have a lifelong commitment to our dogs. We have a large farm and lots of room for all of our dogs. If we can't comfortably accommodate new dogs, then we don't get new dogs. We also require a signed puppy contract with every puppy that leaves our farm. This contract requires an owner to bring the puppy back to us if they cannot keep it for any reason. We then take on the responsibility to monitor the dog to see what home environment would be best for the dog. Rehoming is something we take seriously, and we are very careful about where the dog will be adopted. This is a rare occurrence, as we screen every new buyer upfront to try our hardest to remove that possibility before it happens. Life is a mystery and occasionally unforeseen circumstances do require a puppy to come back to Krieghund Farm. If we cannot find a great home for that dog, they get absorbed into our pack. We will NEVER allow one of our puppies to end up in a shelter!
We would like to thank you for taking the time to read about our farm and what we strive to do here. We appreciate each and every one of our families who have purchased a beautiful puppy from us. We get such a thrill from seeing these incredible animals fill their new homes with so much love and enjoyment!