Testimonials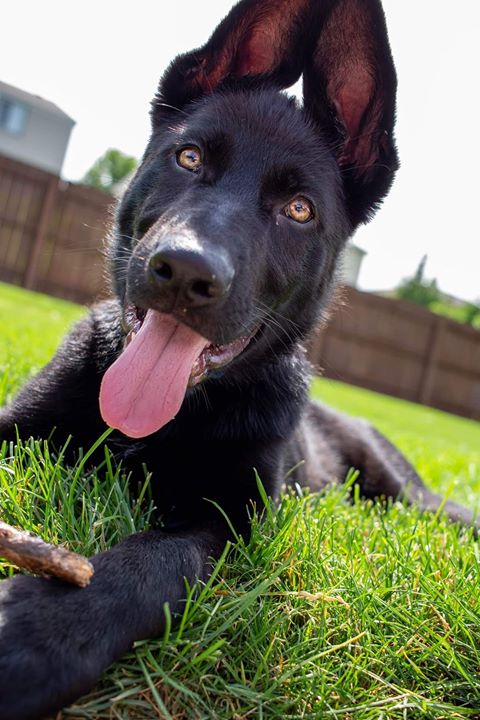 We have one of Ursula's puppies from her 2018 liter. Our solid black beauty is a playful, healthy very smart sometimes too smart lol. Great with our kiddos! The Breeder gave us plenty of info and facts to help us get off to a great start with a new puppy! We are still in contact with the Sabrina and send pics and updates as we go! Beyond professional and compassionate about the breed! I highly recommend getting a German Shepherd through them!
Aidan tichy
---
I own 2 beautiful shepherds from this family. I have a one year old female and a 5 month old male. Their Mother's are sister's and they have the same Daddy. They are both the smartest, loyal and most loving family members. The male is fit to be a Hospice service dog. They have excellent bloodlines! The process to ownership was a great one! All of my questions were answered and communication is excellent. The hardest part is choosing one to take home! They are all raised by a loving family and are part of one big family. My female is protective and sweet and my male is still a curious, active puppy. I highly recommend Krieghund Farm. They also take time to get to know you before they allow you to take one of their babies home. I've never met such knowledgeable and loving people. They truly become your family.
Kim Williams
---
My wife wanted a working dog that would eventually become a service dog. We must of messaged Serena 100 times asking questions about German Shepherds. That woman answered every question with great detail and patience. Little did I know she was feeling us out too, that's how much she cares for her pups. Not everybody can buy from her, if she thinks a German is not right for you she will tell you, and I respect that. It just shows that she is not in it for the money. Finally we drove 6 hours to Lyons Nebraska and when we saw her setup i was amazed. All of her adult dogs looked beautiful, they had so much room to run and play. She had this cute little patio setup for the puppies, it was adorable. So we picked a boy. She knew it would be an emotional support dog so she gave us an unbelievable price, I could not believe. Other places can charge up to 3 or 4 times what we paid for a average puppy. We met the Daddy, he is a stud, could not meet the Mommy since we were strangers holding her babies, but she is beautiful. All of her puppies have papers and are the real deal. Even after a year we still keep in touch, she still messages me checking up on our boy to see how he is doing. We still message her for advice when needed. I will always buy from her, and we plan on getting another puppy next summer. Hope this review helps you good people looking to get a companion.
Bradley Calandra
---
We got our beautiful Axel boy in March and he has been a great addition to our family. They would send us so many pictures and updates while we were waiting to get him. I think they love getting updates on him about as much as I love sending them 🙂 I really enjoy seeing his litter mates grow as he does through their Facebook page. It was important to me that we got a dog from somewhere that was so caring to them as we would be, and they definitely surpassed my expectations!
Jamie Leversee
---
Murphy became our furbaby in 2017 and he has been a great addition to our family. We have another German Shepard who was 7 at the time and the two have been the best buds from day one! Murphy is active, smart, funny and we love him so! Krieghund Farms was a great find, they are very personable and to this day still check up on us to make sure all is well!
Jeff & Barb Peterson
---
Absolutely the best place to choose your furry family member!! That is; if you want a fantastic dog that will stand by you and protect your family 🙂 also some serious lap dog cuddle buddies 🙂 very well mannered and top blood lines! I would definitely recommend them first to anybody searching for a quality GSD. The dogs are raised together and around children 🙂 meeting the pack is so heart warming and you will be greeted with kisses !!
D T