The Dams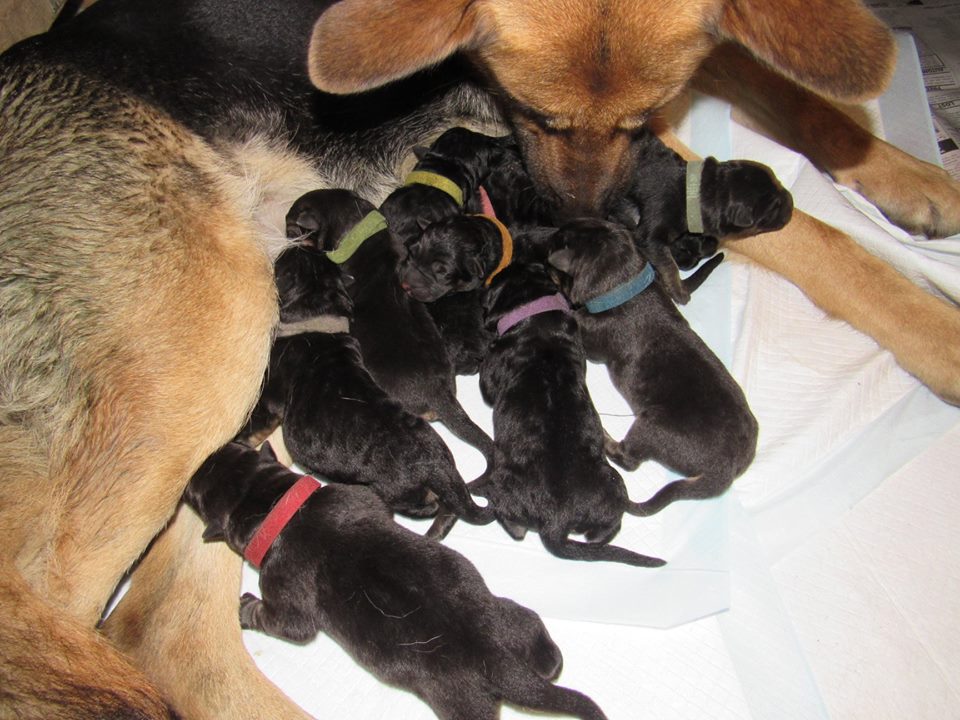 Brunhilda Trudchen Solvig Krieger
"Brunhilda Trudchen Solvig Krieger" is our Czech working lines girl, and has working, titled police dogs on her fathers side. She is my favorite of all my shepherds (its a REALLY close call, they are all amazing!).
Brunhilda is such a strong character, and has an incredibly strong drive towards her family. She is very loving and wants to be by my side 24/7, but her other great quality is her love for our children. She is so sweet and gentle with them, and fiercely protective. She will not allow any roughhousing with or between our kids. When we brought our newborn home, Brunhilda wouldn't let anyone else in the house, not even our other dogs for a few days.
Then when we had a photographer come out to take pictures of our newborn, she wouldn't let the photographer near the baby. She genuinely loves our kids as her own. She is also our smartest shepherd. She has shown incredible skill at complex problem solving. Brunhilda has proven herself to be an exceptional mother and family dog. Her puppies have all turned out to be incredible dogs, great temperaments, and the ones that have been tested all have great hips. Out of her first litter, 6 of the 9 pups are therapy dogs now. Pretty impressive numbers! ***BRUNHILDA IS NOW RETIRED!!!! But we have two of her daughters, Mavis and Mathilda, we are now creating amazing puppies of their own.
Ursula Nordica Krieger
"Ursula Nordica Krieger" comes from champion bloodlines, and her temperament is family focused and happy go lucky. She is smart and very loyal. She is a loving family dog who adores the children and follows her human everywhere she goes. Our youngest son went camping with his grandparents for 3 days. Ursula sat outside his bedroom door waiting for him the whole 3 days.
That kind of love, devotion, and loyalty cannot be taught. Its part of who she is, and her puppies retain that same quality. Her puppies have gone to homes with small infants and toddlers, and each one of them has done excellent with the kids. Ursula makes wonderful family dogs!
Mathilda
Mathilda is the daughter of Wolfgang and Brunhilda! We selected her using multiple criteria, namely her intense desire to please and her strong character. Her gorgeous colors and features were just an added bonus! Her eyes, we cant get enough of those eyes! We selected Mathilda with service dogs in mind. She has an intense desire to please humans. She, like her mother, is extremely sensitive to her human. She demands to be next to her human at all times, and would leap off a cliff without question if her human did first. She is pure working lines on both parents side, so she is very intelligent and her agility is incredible. She is lean, graceful, and has an amazing figure. We love watching her run, its likes watching ballet! She loves puppies, always friendly and wanting to kiss/play with them whenever they are on the farm. Mathilda is  fantastic mother! She is DM clear, PennHip rated "Excellent" on hips.
Inga
Inga is the daughter of Ursula. She is an all black shepherd, and what a beauty! She has a thick solid structure like her mother, with a sleek shiny coat. Her golden eyes melt everyone. She is a super friendly girl, and loves spending time with both dogs and humans alike. Of all our dogs, Inga hands down loves puppies the most! Everytime we have puppies onthe farm, Inga is sure to be right there kissing and playing with them. Inga is such a loving, happy dog! She is a great family dog and will make wonderful puppies once she has her first litter. She is DM clear and OFA Good.
Mavis is the stunning daughter of Brunhilda and Wolfgang. Her hips rated as "Excellent" and she is DM clear. She is a sweet, obedient, affectionate girl who LOVES to please. She trains like dream! She is a fiercely loyal dog who has shown she possesses her mothers strong maternal instincts and her fathers unwavering devotion to his human. Her first litter produced some fantastic puppies!
Gwendolyn
Gwendolyn (Gwen for short) is the daughter of Wolfgang and Ursula. She is such a cutie pie! She is warm, loving, and always ready for a tummy rub. She is frequently found sleeping on someones foot, and upon waking begging for a tummy rub. She is a very playful girl, and loves carrying toys in her mouth and chasing balls. Gwendolyn is always up for anything you can throw her way. She is so perky and fun. She is intent on being close to her humans side. She is DM clear and OFA Good.
Farina
She is the stunning daughter of Tyson Opavia Hof IPO3 and our beautiful Mathilda (daughter of Brunhilda and Wolfgang). Farina's puppies will boast an amazing 3 out of 4 grandparents being IPO3 titled and Czech import German Shepherds, and the other grandparent is not titled but their entire family tree is steeped in Schutzhund titles, Czech bloodlines, and working police dogs.  Farina is laser focused with lots of drive. She is very confident and has rock solid nerves. Nothing can shake that girl! She is friendly and loves to be in the action. Her puppies will be well suited for working homes, and will do fine in a nonworking home as long as they are exercised daily and receive an appropriate amount of training to dial in their high caliber drive. Preference will be given to working homes on this breeding. Farina's puppies are bringing together some of the BEST bloodlines in the working dog world! They will not disappoint!
Lieselotte
Lieselotte is a full blooded sister of Brunhilda! She is a total beauty. Look at the coloring on this girl, the red in her coat is just breathtaking. She is a fun girl, sweet, playful, friendly and social! She is very attached to her people and loves to be with them. She is loyal and protective, and barks when strangers approach.  She also wins the title for the most agile German Shepherd we have ever owned. She has some awesome moves!!! She is going to make some great puppies, and like her sister Brunhilda they will be great family dogs! She is DM clear and OFA Good.