The Sire's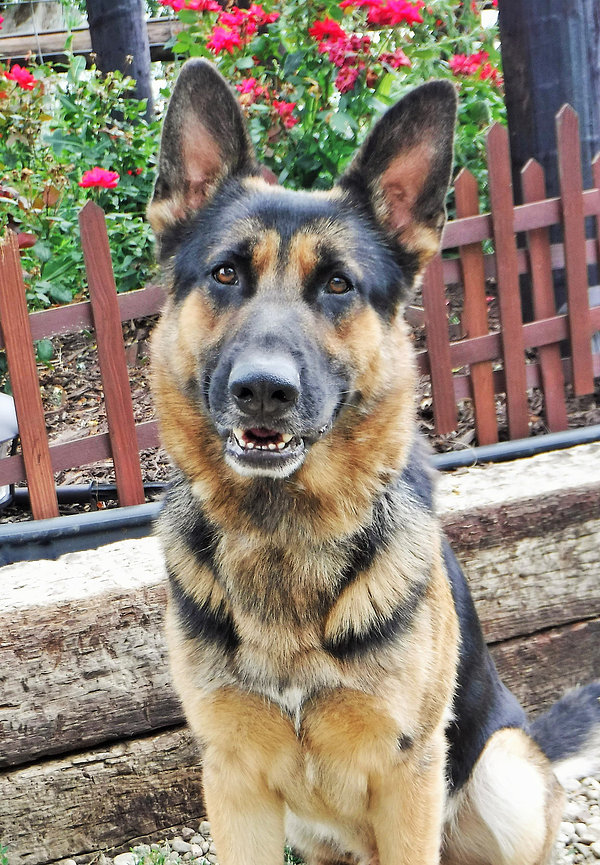 Wolfgang
Our handsome stud Wolfgang. Wolfgang comes from working lines, with his family full of Schutzhund titled German Shepherds. He is DM tested and cleared N/N. His hips are OFA Good. We chose Wolfgang to be our stud not only because he is so handsome, but also due to his unfailing concentration and his intense desire to work.
When Wolfgang was still a puppy, he decided on his own that he has a short invisible leash that's attached to my left arm. He is always on this invisible leash, even in strange circumstances. He will follow me when I am on the riding lawn mower, staying directly on my left hand side for hours at a time. He is so intense! His puppies have demonstrated this same intense desire to work.
He has shown himself to be a fantastic guard dog, always alert to changes in his environment. He is extremely loyal, very smart, and loves our children.
Luger Adalwolf Von Krieghund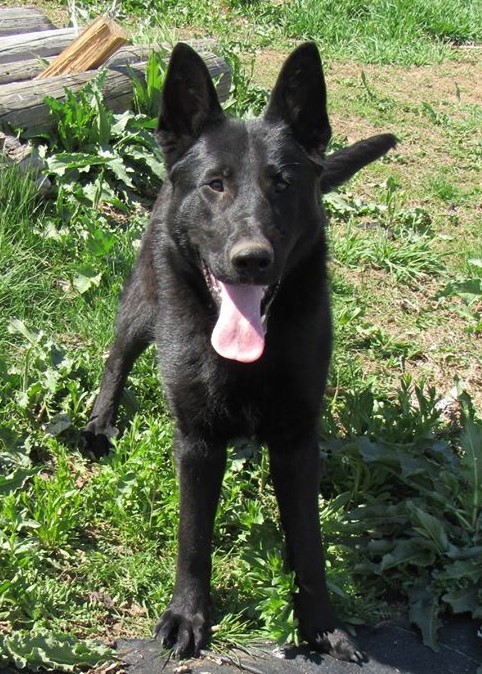 Luger comes from a long line of IPO3 and SCHH3 titled dog, as well as several WUSV World Champions. Seriously impressive bloodlines! He is the great grandson of Falco Japedo, and the great great grandson of the legendary Panter Aritar Bastet! Luger sports several heavyweights in his pedigree. Breeding never lies, as this stud is an exceptional dog and one of our favorites here!
Luger is a special, hard to acquire type of Czech import lines called Z Pohranicni Straze. This kennels bloodline was started in 1955 and its sole purpose was producing and training dogs for the protection of the borders of the Czech Peoples Republic. These dogs make excellent family companions, and have sound solid temperaments. These dogs have exceled in Schutzhund competitions and place high at championship events. They are in very high demand in the US because of their ability to perform well under stressful situations which is crucial in high stress jobs such as military and police work. They generally live long healthy lives and will protect their family without regard to their own safety. They are accepting of strangers while staying aware of their surroundings. They make excellent all around dogs
Luger (named after the German pistol) is a large, masculine, all black German Shepherd. He is a very sweet boy, very affectionate and extremely handler focused. He loves kids and other dogs, and he is smart as a whip! He does excellent with training and obeying commands.
Wilhelm 
Wilhelm is a phenomenal stud dog! He hails from titled Czechoslovakian import dogs. Both his mother and father were imported direct from the Czech Republic and BOTH of his parents hold IPO3 titles. His famiy tree is chocked full of other titled dogs, as he is intense working bloodlines. This dog has incredible drive, awesome power, a strong thick build, deep coloring, and a beautiful coat. He has intense desire to please his handler and is as smart as they come. He is such a friendly social fellow, and loves being around other dogs, humans, kids. He has intense food drive, which can be used to your advantage for training purposes. What a magnificent dog he is! We were very excited to bring this top notch bloodline to our breeding program. He will be an excellent Sire! He will makes puppies suitable for everyday homes and working homes. He does well in all situations, we have never seen this dog disappoint us in any situation.
Tyson Opavia Hof
This fantastic stud is a direct Czech import working lines dog. He holds the titled of IPO3, which is basically a black belt in the working dog world. Its the highest title a GS can achieve under this system. He also holds several agility titles. He has proven himself time and again! He is all black with a solid structure. He is DM clear, and OFA Good. He is an older male, and has never had any health issues which is great for showing longevity in his health and vigor. His handler tells us he is social, does great in the house and loves children. He is an outside stud, meaning he is not on site. Here is a link to his pedigree:    http://www.pedigreedatabase.com/german_shepherd_dog/dog.html?id=725892-tyson-opavia-hof